General Hospital (GH) spoilers for the next two weeks, January 30 to February 10, tease that Carolyn Webber (Denise Crosby) will consider doing what Nikolas Cassadine (Adam Huss) asks. Carolyn will go with Nikolas to Spring Ridge during the week of January 30-February 3, but the plan will hit a big snag.
When Carolyn realizes Esme Prince (Avery Pohl) is pregnant, that'll be a deal-breaker. Carolyn will take one look at Esme's baby bump and refuse to use her skills to mess with this soon-to-be mother's mind.
However, Nikolas will stick around to drop a bomb on Esme. Although amnesiac Esme has been hoping Spencer Cassadine (Nicholas Chavez) is the father of her child, Nikolas will confess that he's the father instead.
Since Marcus Coloma's final scenes have already aired, viewers will see a temporary Nikolas recast air for the remainder of Nikolas' exit arc.
While Esme wraps her head around Nik's news, Carolyn will track Elizabeth Baldwin (Rebecca Herbst) down and deliver a ᴡᴀʀɴɪɴɢ.
Liz should get updates on Nikolas' desire to suppress Esme's trauma forever and Carolyn's refusal to help him.
Over with Stella Henry (Vernee Watson), she'll compare notes with Trina Robinson (Tabyana Ali) about their genealogy test results.
There'll be some warning signs that lead Stella to the conclusion that Curtis Ashford (Donnell Turner) could be Trina's bio dad.
A conversation with cagey Jordan Ashford (Tanisha Harper) will add to Stella's fears.
Stella will feel conflicted since Curtis is about to marry lying Portia Robinson (Brook Kerr), but bringing this secret out in the open could blow up so many lives.
Of course, Stella won't have any evidence anyway, so she'll feel like maybe she should get some before Curtis and Portia's wedding day hits.
One way or another, Stella will go after the truth.
As for Nina Reeves (Cynthia Watros), she'll contemplate Carly Spencer's (Laura Wright) romantic relationship with Drew (Cameron Mathison). Nina may seek info on why there's so much secrecy and find out about the tricky insider trading issue.
Thankfully, Nina and Sonny Corinthos (Maurice Benard) will also find out about Willow's cord transplant alternative, so they'll be relieved to know it could save her life.
After Willow gets prepped for a C-section, the procedure should get underway. Michael will receive news that leaves him anxious, so there could be some complications.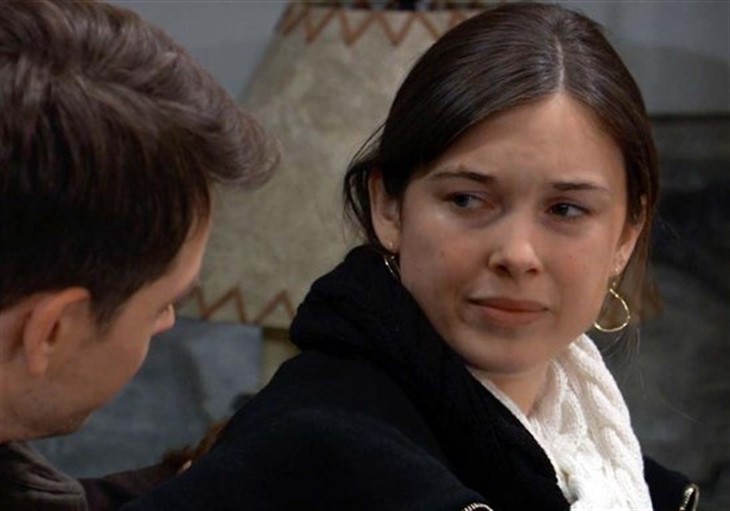 Then again, maybe Michael will realize Nina poses a threat regarding the insider trading fiasco.
That could certainly leave Michael nervous on top of everything else he has to worry about.
Whatever the case, Willow and Michael will welcome their baby girl soon, so let's hope she's happy and healthy despite being a bit premature.
This little one could help save Willow's life once the umbilical cord and placenta are free for stem cell harvesting.
Other GH spoilers say Britt Westbourne (Kelly Thiebaud) will be honored at a special memorial service. It'll be a lovely tribute and will bring some tears from the people who loved Britt most.
Brad Cooper (Parry Shen) will have a favor to ask Selina Wu (Lydia Look), so he might come up with a more personal way to honor Britt and get some help with his idea.
Time is running out for Heather Webber (Alley Mills), who's on a ᴅᴇᴀᴅʟɪɴᴇ and needs to offer useful info to Dante Falconeri (Dominic Zamprogna) ASAP. That could drive Heather to urgent extremes.
Heather will come up with a new plot, so we'll see if that involves a new spin on her escape with Esme or perhaps a different plan entirely.
After Elizabeth confides in Hamilton Finn (Michael Easton), he'll be rocked to the core.
It seems Liz will confess that she didn't have an affair with Nikolas and certainly wasn't pregnant.
Finn should hear about Esme being held captive at Wyndemere and learn how Liz got tangled up in all that.
It'll leave Finn with a lot to mull over once Elizabeth delivers the sʜᴏᴄᴋᴇʀ.
Spencer will also announce something huge, so we can assume this involves his push for custody.
Laura Collins (Genie Francis) will step up to play referee once Cassadine chaos erupts, but she may not have any luck.
As for Blaze (Jacqueline Grace Lopez), she'll reflect on what a nightmare Linc Brown (Dan Buran) is and lean on Harrison Chase (Josh Swickard) for support.
After Austin Gatlin Holt (Roger Howarth) runs into Ava, he'll extend a kind offer during the week of February 6-10.
Ava may end up needing Austin's assistance since she'll feel overwhelmed.
Back with Liz, she'll face an important decision, so she may have to decide whether she'll confess to the cops and rat out Nikolas.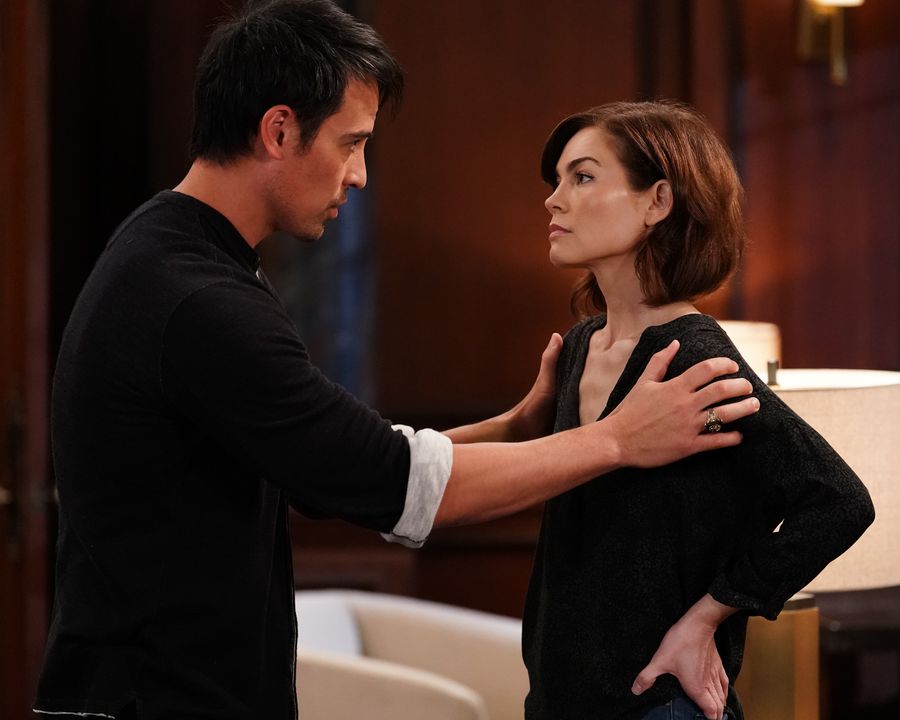 Mason Gatlin (Nathanyael Grey) will get another warning from Austin as their feud escalates again, but Austin may hope to put Mason in his place for good this time.
Meanwhile, Liesl Obrecht (Kathleen Gati) will take charge of a situation.
Whether that means trying to get through to Willow for Nina or perhaps avenging Britt's ᴅᴇᴀᴛʜ, Liesl won't take no for an answer!
Nina will eventually have a sentimental present to pass along, so that could mean giving Willow her locket.
Maybe Nina will hang onto Nelle Benson's (Chloe Lanier) old half and urge Willow to take the other half as a gift.
On the other hand, there could be another old heirloom that Nina always wanted to pass down to her child.
Nina may take a ɢᴀᴍʙʟᴇ and hope Willow's willing to accept a token of her love.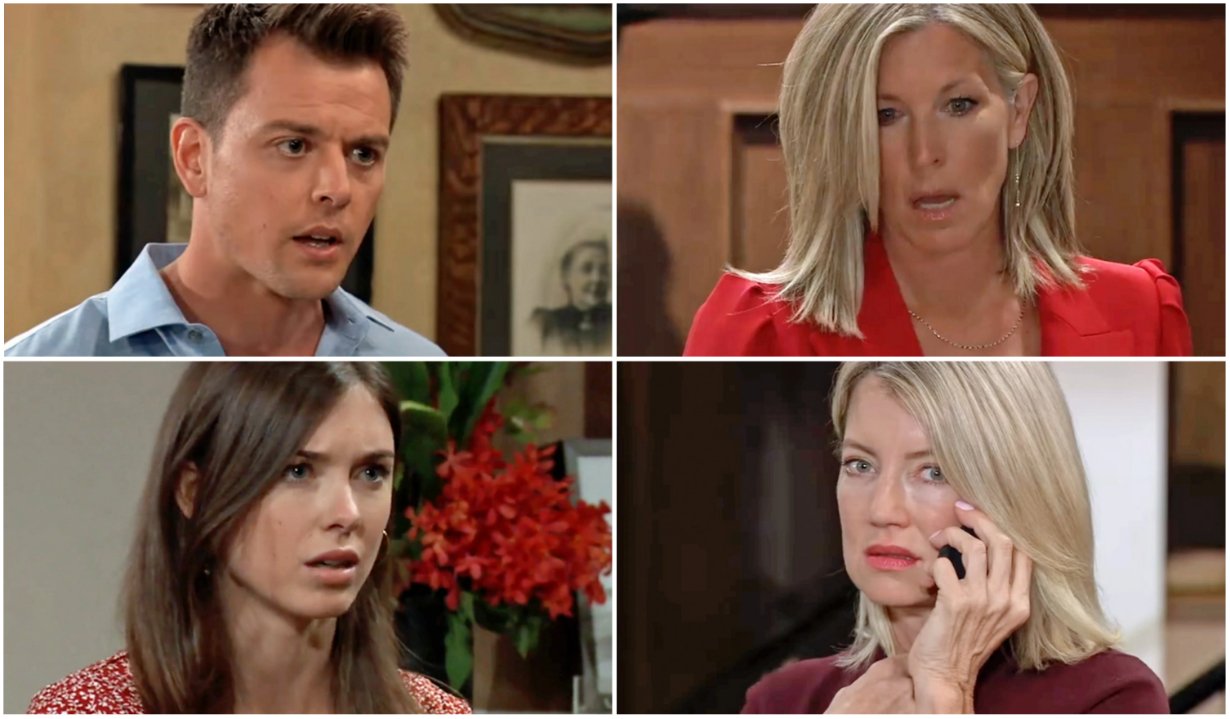 Curtis and Portia Robinson's (Brook Kerr) wedding day will be drawing near, so Jordan could raise Marcus Taggert's (Réal Andrews) suspicions ahead of the ceremony.
It turns out Jordan and Taggert will have an honest discussion, but just how honest will they get?
Jordan may not be willing to spill the bio dad beans herself, but she could still offer some troubling hints.
Taggert may find himself wondering if Portia lied about Trina's paternity since this storyline is obviously about to explode!
The nuptials are coming up fast, so Portia's big day could turn into a total ᴅɪsᴀsᴛᴇʀ once Valentine's Day arrives down the road.
General Hospital spoilers say the next two weeks will bring some action-packed GH episodes, so stay tuned.
CDL will have other scorching General Hospital spoilers, updates and news, so check back often.