General Hospital
General Hospital Spoilers: Fury Unleashed, Deadly Warnings, Hard Truths
General Hospital spoilers and updates for the week of Monday, November 13-Friday, November 17 tease fury unleashed, deadly warnings, and hard truths. Nina Reeves Corinthos (Cynthia Watros) unleashes her fury, Cyrus Renault (Jeff Kober) issues a deadly warning, and Josslyn Jacks (Eden McCoy) advises Spencer Cassadine (Nicholas Alexander Chavez) of some hard truths.
General Hospital Spoilers – Fury Unleashed, Strategy Session
Monday, November 13, Nina unleashes her fury-this may have something to do with Charlotte Cassadine's (Scarlett Fernandez) accusations that Anna Devane (Finola Hughes) shot her on purpose.
At the Quartermaine mansion, Brook Lynn Quartermaine (Amanda Setton) and Lois Cerullo (Rena Sofer) engage in a strategy session.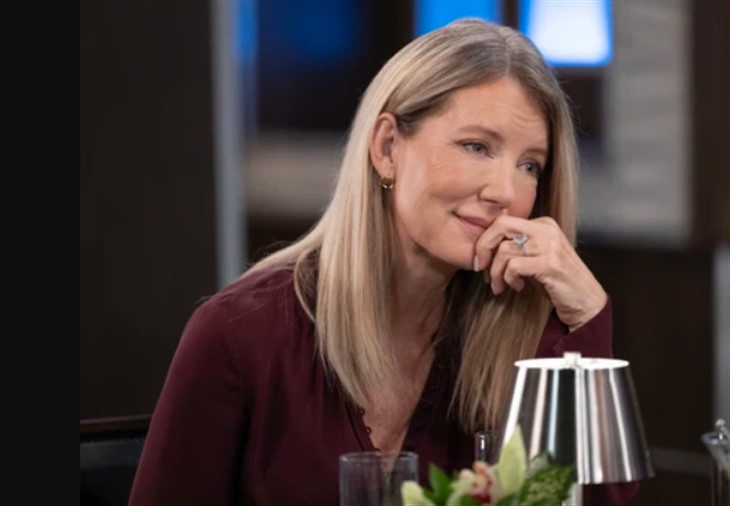 At the Quartermaine gatehouse, Michael Corinthos (Chad Duell) is caught off guard when Willow Corinthos (Katelyn MacMullen) picks up on his negative attitude towards Nina.
Elsewhere, Gregory Chase (Gregory Harrison) opens up to Harrison Chase (Josh Swickard). As for Anna, she briefs Jordan Ashford (Tanisha Harper) and Dante Falconeri (Dominic Zamprogna) – likely on Valentin Cassadine's (James Patrick Stuart) confession on the staircase.
GH Spoilers – Counseling Sessions, Interrogations
Tuesday, November 14, Ava Jerome (Maura West) counsels Trina Robinson, (Tabyana Ali) who walked away from Spencer over a major issue.
Meanwhile, Dante interrogates Austin Gatlin-Holt (Roger Howarth) who has decided to come clean about Mason Gatlin (Nathanyael Grey) and Cyrus.
Elsewhere, Spencer makes a plea to Esme Prince (Avery Kristen Pohl) related to her moving into her own place with his baby brother.
Hamilton Finn (Michael Easton) will receive some bad news-might it be related to what his father told Chase? Elsewhere, Carly Spencer (Laura Wright) will seek out Sonny Corinthos (Maurice Benard).
General Hospital Spoilers – Deadly Warnings, Surprise Announcements
Wednesday, November 15 Cyrus issues a deadly warning-likely related to Austin's cooperation with the Port Charles Police Department.
Maxie Jones (Kirsten Storms) will have a surprise announcement-following Deception Cosmetics' very successful photo shoot, they may be invited for another appearance on House and Home.
Elsewhere, Marshall and Curtis Ashford (Robert Gossett, Donnell Turner) connect while TJ Ashford (Tajh Bellow) reels over bad news concerning the surrogate pregnancy.
Diane Miller (Carolyn Hennesy) vents to Alexis Davis (Nancy Lee Grahn); now that they've successfully gotten Drew Cain (Cameron Mathison) released from Pentonville, what now? Perhaps it has something to do with Robert Scorpio (Tristan Rogers) being preoccupied with Anna again?
GH Spoilers – Wise Cautions, Angry Outbursts
Thursday, November 16 Dex Heller (Evan Hofer) wisely cautions Josslyn Jacks (Eden McCoy) who's getting a bit too close to the situations of others. She continues to be drawn into Adam Wright's (Joshua Benard) big mess and Dex may be noticing something off with the young man.
Elsewhere, Ava has an angry outburst and lashes out, and that may well be at Spencer, in Trina's behalf. Molly Lansing-Davis (Kristen Vaganos) will be blindsided by the situation that makes TJ reel, while elsewhere, Cody Bell (Josh Kelly) comes clean.
As for Anna, she catches up with Sonny and tells him what she knows now about Charlotte's stalking her.
General Hospital Spoilers – Hard Truths, Answers Demanded
Friday, November 17, Josslyn has some hard truths for Spencer-he may have driven Trina away for good; meanwhile, Sonny's demanding answers from Nina.
Robert will seek Felicia Scorpio's (Kristina Wagner) help regarding Anna's situation, is the mysterious Agent Jameson Forsyth (uncast) still a threat?
If so, will he be able to convince Felicia to do one more private investigation job while she's busy working on a new career as a patient advocate?
Elsewhere, Laura Collins (Genie Francis) will make an offer. Meanwhile, Willow will encourage Carly.
Be sure to catch up on everything happening with GH right now. Come back here often for General Hospital spoilers, news, and updates.