General Hospital
General Hospital Spoilers: Sonny Unleashes On Nina About Charlotte, Foreshadow Of What's To Come?
General Hospital (GH) spoilers indicate some plot twists on the horizon in Port Charles. Right now, Nina Reeves (Cynthia Watros) is hiding a lot from her new husband, Sonny Corinthos (Maurice Benard). She helped Valentin Cassadine (James Patrick Stuart) cover up Charlotte Cassadine's (Scarlett Fernandez) disdain for Anna Devane (Finola Hughes), but moreover, there's also her massive lie about ratting out Carly Spencer (Laura Wright) and Drew Cain (Cameron Mathison) to SEC.
Looks like one will likely be revealed before the other, and Sonny's reaction could foreshadow just how angry he gets when he feels betrayed.
General Hospital Spoilers – The Truth About Charlotte Cassadine Will Come Out
GH spoilers suggest that Charlotte's stalking of Anna will likely come out very soon. Along with the young girl's secret, Nina will be exposed for her role in covering things up.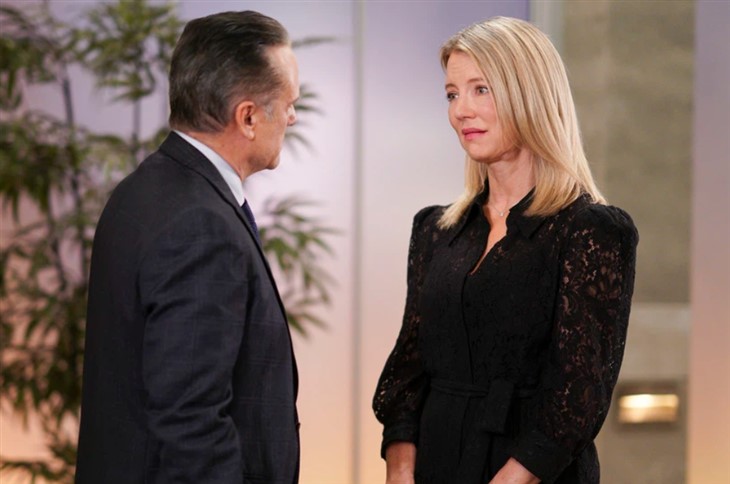 After all, she did delete that Metro Court video footage, which offered the evidence needed to link Charlotte to the ransack of Anna's hotel room.
Anna has become quite close with Sonny. When Valentin spills to her, she'll turn to the mob boss for support and to "vent", which is when everything will come out.
GH Spoilers – Sonny Corinthos Will Rage
GH spoilers for Friday, November 17th hint that Sonny will demand answers from Nina. He'll likely be quite upset that she didn't tell him about what Charlotte had done. After all, there's no way he would've run to the cops about it, and he may have potentially been able to help.
As Sonny was very close to Luke Spencer (Tony Geary) and Charlotte is his granddaughter, the mobster has emotional ties to the young girl and would've stopped at nothing to protect her.
Sonny will rage at Nina; however, she may point out that he has secrets of this degree from her, like "protecting" Ava Jerome (Maura West), plus, telling him about Charlotte wasn't her "secret" to tell, it was Valentin's.
Still, Sonny will ultimately forgive Nina, and this won't break up their marriage; however, it will give Ms. Reeves a taste of what's to come when the SEC secret implodes.
How angry will Sonny get when he learns Nina has lied to him? Share your thoughts below.
Watch the popular ABC soap daily to see what happens next and visit this site regularly for the best General Hospital updates, spoilers, and news.