General Hospital
General Hospital Spoilers Tuesday, November 14: Dante's Interrogation, Finn Reels, Carly's Search, Ava's Wisdom
General Hospital spoilers for Tuesday, November 14, 2023, reveal that Dante Falconeri (Dominic Zamprogna) interrogates Austin Gatlin-Holt (Roger Howarth).
General Hospital Spoilers Highlights
Ava Jerome (Maura West) shares words of wisdom with Trina Robinson (Tabyana Ali). Spencer Cassadine (Nicholas Alexander Chavez) begs Esme Prince (Avery Kristen Pohl) to reconsider.
Carly Spencer (Laura Wright) seeks out Sonny Corinthos (Maurice Benard). Plus, Hamilton Finn (Michael Easton) gets bad news.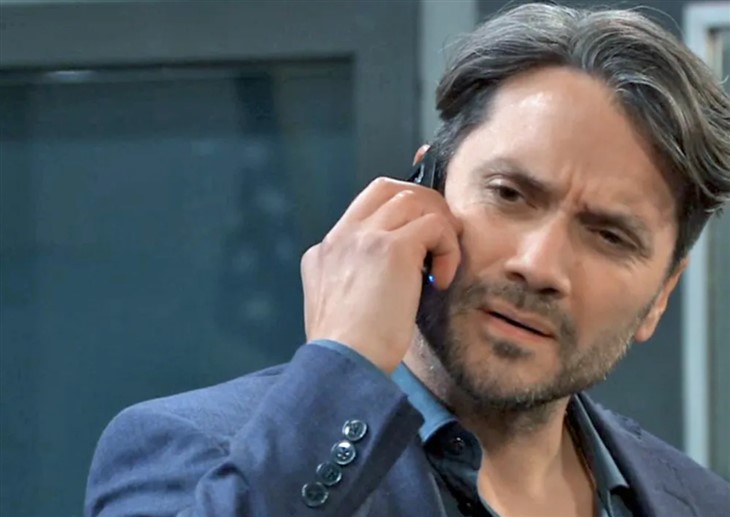 General Hospital Spoilers – Ava Jerome's Words of Wisdom
GH spoilers for Tuesday, November 14 reveal that Ava will share some advice with Trina. This is most likely regarding Trina and Spencer's recent conflict over Esme planning to move out with Ace Cassadine (Joey and Jay Clay).
Even though Spencer is Ace's big brother, he has been a father figure to the little boy. Considering Esme's history, it's understandable why Spencer would want to keep his baby brother close.
ASt the same time, Esme is Ace's legal mother, and she has the support of Spencer's own grandmother, Laura Collins (Genie Francis).
In fact, Laura and Kevin Collins (Jon Lindstrom) might say moving out is good for Esme. After all, she does have to learn to be independent at some point.
Back to Trina, Spencer completely misunderstood her statement. At the same time, it's almost as if Spencer is living a double life. So, Ava will share some advice with Trina.
GH Spoilers – Spencer Cassadine's Plea
On Tuesday, November 14, fans will see Spencer issuing a plea to Esme. Spencer will try to get Esme to reconsider moving out with Ace.
As Spencer issues his plea, Esme might blurt out all the reasons why she needs to leave. However, Esme won't move out without her baby.
So, what will Spencer do to stop Esme? In the meantime, can Spencer's relationship with Trina work?
General Hospital Spoilers – Dante Falconeri's Interrogation
General Hospital spoilers for Tuesday, November 14 reveal that Dante and Jordan Ashford (Tanisha Harper) have a full caseload at the Port Charles Police Department.
ALSO READ: General Hospital News: What's Going On With Wally Kurth?
Dante and Jordan already got some shocking information from Anna Devane (Finola Hughes) about Charlotte Cassadine (Scarlett Fernandez).
Unfortunately, Anna can't prove her claims. It would help if Valentin Cassadine (James Patrick Stuart) would corroborate Anna's story about Chalotte, but he will likely protect his daughter.
Perhaps Kevin will enlighten Laura, and that could blow the case wide open.
Next, Dante will interrogate another suspect. Dante will end up grilling Austin, but will the devious doctor give any solid answers?
GH Spoilers – Tuesday, November 14
On Tuesday, November 14, fans can also expect to see Carly seeking out Sonny. Carly will question Sonny about Nina Reeves Corinthos (Cynthia Watros).
ALSO READ: GH Spoilers: Ned's Back-But Is Nina Busted Right Away?
Nina offered to sell Carly back her half of the hotel. However, this is only setting off alarm bells in Carly's mind.
It could also make Willow Tait Corinthos (Katelyn MacMullen) give Michael Corinthos (Chad Duell) a heads-up.
With Michael knowing about Nina's betrayal, it's only a matter of time before her fairy tale evaporates.
Which storyline are you looking forward to seeing the most on Tuesday, November 14?
Share your thoughts in the comment section below. Remember to keep watching the soap on ABC to find out what happens next.
Be sure to catch up on everything happening with GH right now. Come back often for General Hospital spoilers, news, and updates.