General Hospital
Sydney Mikayla Dances Into New Chapter In Her Life After General Hospital
When Trina Robinson first entered the Port Charles scene in 2017 on "General Hospital," she was portrayed by Tiana Le, and it seemed as if she was going to be trouble because she brought boys and alcohol to Josslyn Jacks' (Eden McCoy) parentally unauthorized party. Le only appeared in three episodes, and the show retconned the character in 2019 by bringing in actress Sydney Mikayla to replace her. This Trina was a good girl who was above reproach and cemented her great friendship with Joss and Cameron Webber (William Lipton). Mikayla deftly made Trina a sympathetic and relatable character who would get entangled with the complicated Spencer Cassadine (Nicholas Chavez). Sadly for us, but not Mikayla, she exited the show in 2022, leaving her co-workers a heartfelt message of gratitude on Instagram.
Since then, Mikayla has been sure to update her fans on what she's been up to since leaving "GH" behind. In and around immersing herself in her studies, she's become an in-demand voice-over talent, lending her pipes to such animated fare as "Transformers: Earthspark," and Netflix's "Dew Drop Diaries," among others. Choosing to leave the soap was necessary because of the show's grueling recording schedule and she needed to focus on her studies. It's very evident that she's embraced college life as she's announced to her fans that she is now part of a UCLA majorette dancing team.
Sydney Mikayla co-founded her college dance team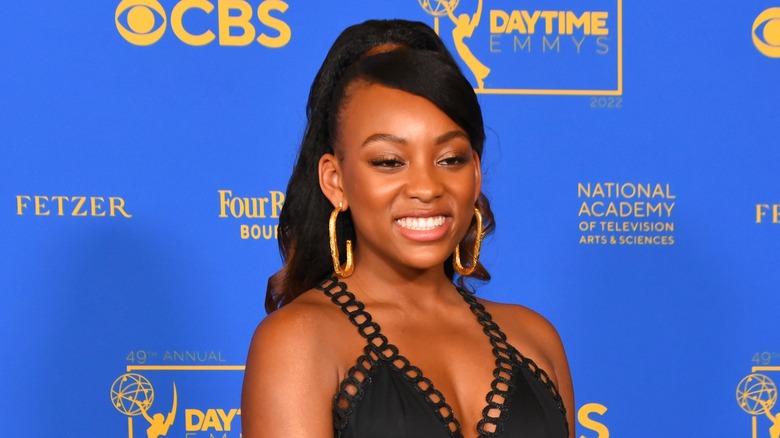 "General Hospital" alum Sydney Mikayla took to Instagram on August 29 to announce that she's part of UCLA's Bruinettes, a majorette dancing group that helps Black students express themselves and performs at athletic events. "I am so grateful to announce that the first ever danceline team at UCLA will be coming to you for the 2023-24 season," she wrote alongside a picture of herself in her Bruinette leotard. She continued, "As the co-founder of this incredible organization, I've been so blessed to help create such a beautiful space for dancers to thrive, live in their authenticity, and grow as creatives and leaders. I'm so so excited for y'all to see what's in store, and I'm grateful to God that these dreams have become a reality. Stay tuned!"
One of her excited dance mates replied, "Yes co-founder!!! u are amazing & i'm so excited to dance with u this year!" Former "GH" co-star Eden McCoy congratulated her, as did William Lipton, and Mikayla told both that she missed them. Yvette Nicole Brown, who guest starred on "GH" in March gleefully referenced Mikayla's mother, actress Sonya Leslie, by writing, "Baby girl!!! I am so prosud of you! You are your mother's child! Look at your girl @iamsonyaleslie! Shining!" Although some fans may miss her on "General Hospital," they clearly couldn't have been happier for Mikayla.