GH
General Hospital Spoilers: Cold Comfort, Critical Counsel, Courtroom Conflicts!
General Hospital spoilers and updates for the week of Monday, August 28-Friday, September 1 tease cold comfort, critical counsel, and courtroom conflicts! It's cold comfort for a guilt ridden Hamilton Finn (Michael Easton), Stella Henry (Vernée Watson) gives critical counsel, and Lucy Coe (Lynn Herring) and Deception Cosmetics face courtroom conflicts.
General Hospital Spoilers – Cold Comforts, Critical Counsel, Crucial Confrontation
Monday, August 28 Finn continues blaming himself and feeling guilty over lost years with his dying father, Gregory Chase (Gregory Harrison).
Elizabeth Baldwin (Rebecca Herbst) tries to comfort him, to keep his focus on the now, while elsewhere Stella gives critical counsel to her stubborn nephew Curtis Ashford (Donnell Turner).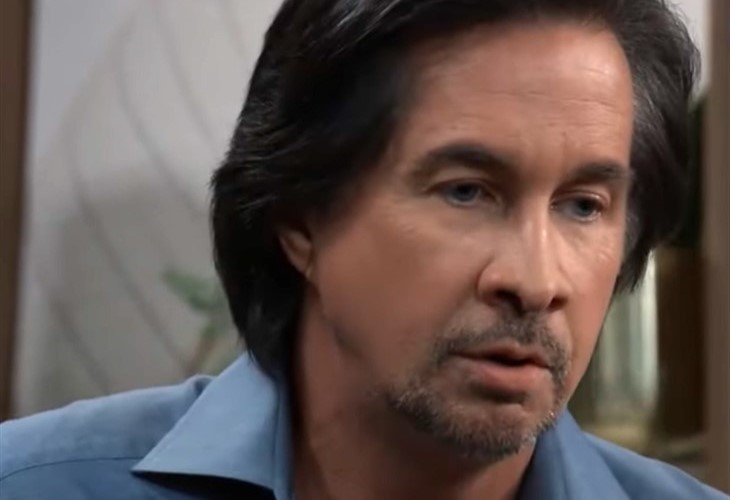 Lucy hits Martin Grey (Michael E. Knight) with a crucial confrontation over the looming lawsuit brought on over "The Deceptor" by a competitor company in Pine Valley.
Elsewhere, Kristina Corinthos-Davis (Kate Mansi) seeks out her mother, Alexis Davis (Nancy Lee Grahn).
At Kelly's, Carly Spencer (Laura Wright) pressures Attorney Diane Miller (Carolyn Hennesy) to work on getting Drew Cain (Cameron Mathison) an early release from Pentonville Prison.
GH Spoilers – Courtroom Conflicts, Desperate Moves, Probing Questions
On Tuesday, August 29 courtroom conflicts begin with the arrival of Jackson Montgomery (Walt Willey) in Port Charles.
Elsewhere, Gladys Corbin (Bonnie Burroughs) makes desperate moves to find a way to pay off Selina Wu (Lydia Look) and Dr. Damon Montague (Darin Toonder), realizing he's not her friend.
At Pentonville, Cyrus Renault (Jeff Kober) asks Drew probing questions while elsewhere, Brick (Stephen A. Smith) and Sonny Corinthos (Maurice Benard) put their heads together to find answers.
Meanwhile, Tracy Quartermaine (Jane Elliot) creates quite a stir, likely showing up in the courtroom where Jackson is suing Deception Cosmetics.
General Hospital Spoilers – Blindsided CEOS, Attempted Visits, Foiled Mobstress
Wednesday, August 30 the courtroom drama continues with Lucy, the founder and CEO of Deception Cosmetics being blindsided-likely by the appearance of Tracy.
Meanwhile, Dante Falconeri (Dominic Zamprogna) attempts a visit with Sasha Gilmore (Sofia Mattsson) at Ferncliff, which will be difficult if Gladys hasn't amended her visitor list.
Cody Bell (Josh Kelly) puts on a show, likely part of his son-like-father plan to get himself beyond a 48 hour psych hold at Ferncliff.
Meanwhile, Selina Wu (Lydia Look) finds herself foiled. Nina Reeves (Cynthia Watros) gets shocking intel, likely from Gladys who's trying to get money "for Sasha's bills".
GH Spoilers – Curiosity Piqued, Family Confidences, Annoying Frustrations
On Thursday, August 31 Diane's curiosity is piqued, while Spencer Cassadine (Nicholas Alexander Chavez) confides something to his aunt Alexis.
Ava Jerome (Maura West) experiences annoying frustrations, possibly over the time it's taking Sonny to produce Nikolas Cassadine's (Adam Huss) body so she's in the clear.
Elsewhere, Brook Lynn Quartermaine (Amanda Setton) lashes out, while Harrison Chase (Josh Swickard) makes a proposition.
Brook Lynn blew up at Tracy recently over the damage done to Deception Cosmetics, and perhaps this takes place in the courtroom.
General Hospital Spoilers – Making Cases, Jogging Memories, Grandma Visits
Friday, September 1 Chase makes a strong case-likely connected to his proposition from Thursday's episode.
READ THIS: Find out what happens next on General Hospital.
Elsewhere, Olivia Quartermaine (Lisa LoCicero) continues to try and jog Eddie Maine's (Wally Kurth) memories, and Nina enjoys a visit with Wiley Corinthos (Viron Weaver).
Nina and Willow Corinthos' (Katelyn MacMullen) relationship continues to improve, so those Grandma Nina visits should increase.
Josslyn Jacks (Eden McCoy) opens up to her mother Carly, and continues to express her concerns.
Meanwhile, Brook Lynn expresses her doubts, again this may be connected to the Deception Cosmetics courtroom drama.
Be sure to catch up on everything happening with GH right now. Come back here often for General Hospital spoilers, news, and updates.