GH
General Hospital Spoilers: Lucy Learns The Truth — Marty Tanked Deception On Purpose
General Hospital Spoilers suggest Martin 'Marty' Grey (Michael E. Knight) could make heads roll when he blindsides Lucy Coe (Lynn Herring) in the biggest way yet. As though a lawsuit alleging she stole the idea of The Deceptor wasn't a bad idea, and Tracy Quartermaine (Jane Elliot) having anything to do with it wasn't confusing enough, Lucy will be floored to find out Marty has been playing her all along. Wait! Their entire love story is a lie? Rumor has it…yes!
If Marty is just another man playing with Lucy's emotions and raking her over the coals to shake her down, he's got another thing coming! But first, Lucy will have to come to terms with reality.
General Hospital Spoilers — Marty Grey Never Loved Lucy Coe
Some fans seem to think Marty has been conning Lucy all along. It's going to be hard for some of us to buy the idea that he came to town with ill intentions, or that he risked his relationship with his newfound sister, Laura Collins (Genie Francis), by coupling up with Lucy in the first place if not truly in the pursuit of love.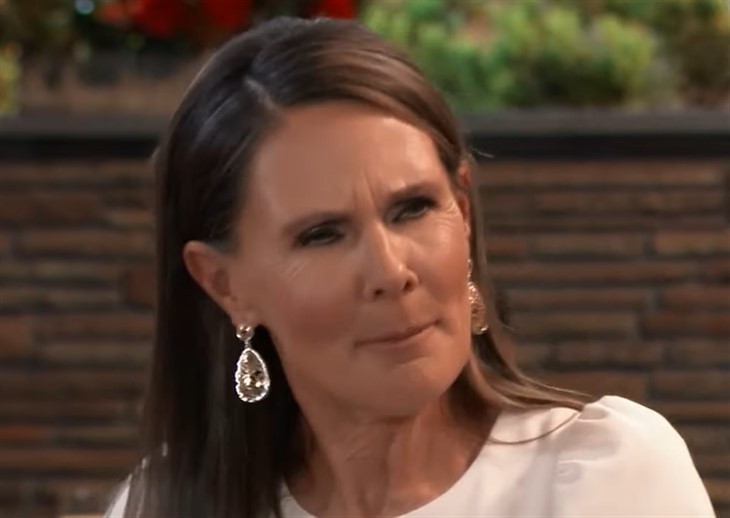 Still, Marty could have had an agenda, and he might be more like Cyrus Renault (Jeff Kober) than Laura. Maybe we just didn't notice it through the saccharine Southern accent and hummingbird cake.
GH Spoilers- Indicate There Was No Third Divorce
It's also possible that Marty hasn't come clean with Lucy about ex-wifey number three because she is no ex of his. That's right. Marty could still be married — and that would give him ample reason as to why he won't marry Lucy and wants to dodge the subject at all costs.
Lucy certainly wasn't happy about the idea that Marty would choose a cool $50K a month over being her husband, but how would she feel about learning she's been loving and sleeping with someone else's husband?
General Hospital Spoilers — What About That $50K?
If a woman from Marty's past has him over a barrel, it likely doesn't matter whether she is his current or former wife. She could be blackmailing him into compliance and forcing him to tank Deception on purpose.
We saw Tracy and Marty sit down with each other recently as he agreed to come on board at ELQ. Was there more to that meeting that we don't know about yet? Could Marty's ex have ties to Tracy and want to seek revenge on him and Lucy?
Perhaps, but nothing really explains why he is being paid $50K a month if it isn't alimony. Is Marty actually being paid to dismantle Lucy's life?
If it turns out he was conning her all along, we're not sure we'll see Lucy bounce back from heartache the same way this time. Stay tuned for more GH news and spoilers to see how this plays out.